Uzbekistan & Turkmenistan Adventure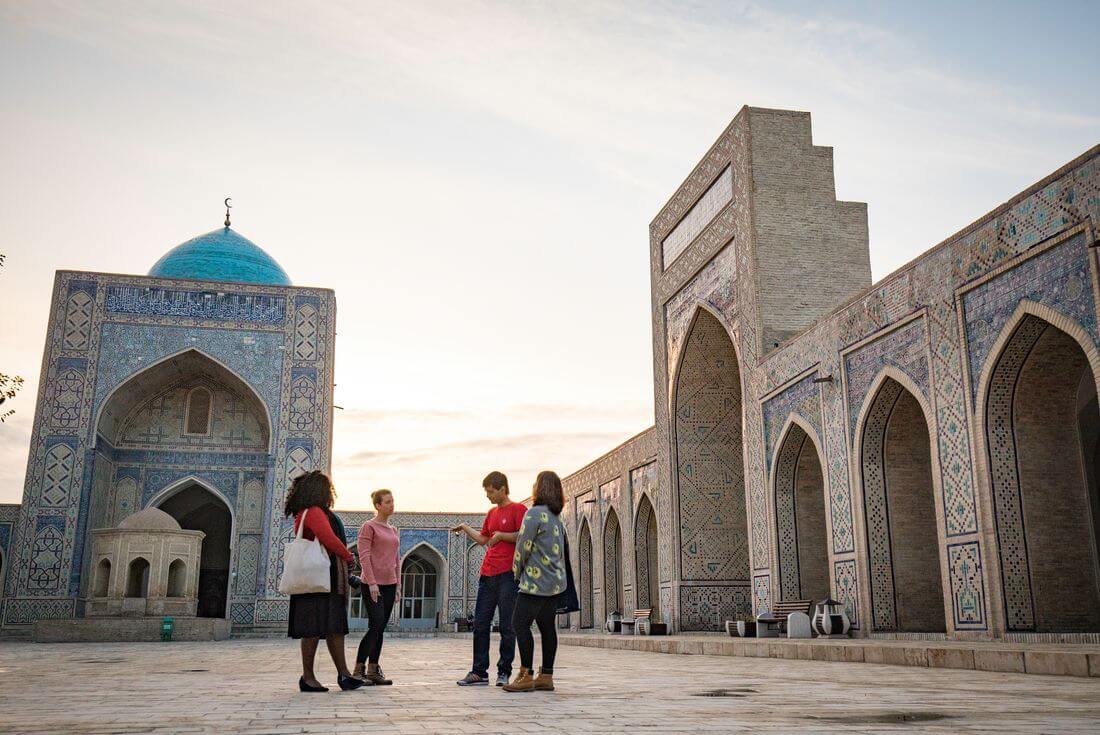 Uzbekistan & Turkmenistan Adventure
Travel into desert landscapes heavy with romance and mysticism on this adventure through Uzbekistan and Turkmenistan. Walk in the shadows of ancient, blue-tiled buildings in Samarkand, sleep in a yurt under thousands of desert stars and spend an evening at a home stay with a family in the Nuratau Mountains. Watch the sun set over Technicolour minarets in Khiva, learn about life in a desert settlement in Yerbent and revel in the eastern-futurism of Ashgabat. Step off the beaten track and onto the ancient Silk Road in this revelatory tour through ancient lands.
Activities
Bukhara - Ismail Samani Mausoleum
Bukhara - Ark Fortress
Bukhara - Bolo Hauz Mosque
Bukhara - Magoki Attori Mosque
Bukhara - Kalon Minaret & Mosque
Bukhara - Ulugbek Madrasa
Bukhara - Lyabi-Hauz Plaza
Gijduvan - Ceramics workshop
Nuratau - village visit
Nuratau Mountains - Plov cooking demonstration & dinner
Samarkand - Gur-e-Amir Mausoleum
Samarkand - Registan
Samarkand - Shakh-I-Zinda
Samarkand - Bibi-Khanym Mosque
Tashkent - Chorsu Bazaar
Tashkent - City tour
Tashkent - Amir Timur Square
Tashkent - Chorsu Bazaar
Tashkent - Khast Imom Complex & Moyie Mubarek Library Museum
Tashkent - Amir Timur Square
Tashkent - City tour
Tashkent - Metro tour
Khiva - Islom Hoja Minaret & Medressa
Khiva - Juma Mosque
Khiva - Tosh-Hovli Palace
Khiva - Pahlavon Mahmud Mausoleum
Khiva - Kuhna Ark
Darvaza - "Door to Hell" Crater
Yerbent - Village visit
Ashgabat - National Museum of Turkmenistan
Ashgabat - Nisa ruins
Ashgabat - Anau ruins
Ashgabat - Independence Monument
Ashgabat - Neutrality Arch
Ashgabat - Turkmenbashy Ruhi Mosque & Family Mausoleum of the First President of Turkmenistan
Ashgabat - Ertugrul Gazi Mosque
Ashgabat - Akhal-Teke horse Hippodrome
Mary - Abiverd ruins
Merv - Big & Small Kizkala
Merv - Erk Kala & Gayur Kala
Merv - Sultan Sanjar Mausoleum
Highlights
This incredible journey takes you through parts of Central Asia that few people can find on a map, let alone have considered travelling to.
The much-photographed Registan in Samarkand is one of the true pinnacles of Islamic architecture. You'll be wowed by the scale, grandeur and beauty of the monuments to iconic figures such as Tamerlane and the Persia-influenced madressas, mosques and mausoleums.
Spend an evening in the isolated Kyzylkum Desert, warming yourself by the fire and sleeping in a yurt.
Get to really know the stories and people of Uzbekistan while sharing home-cooked meals with local families, including a home stay in the remote Nuratau Mountains.
Spend time in World Heritage-listed Bukhara, a 6th-century-BC city that's drenched in history and home to the formidable Ark of Bukhara.
Steeped in Silk Road history and immortalised in many great tales, the UNESCO-protected town of Khiva is as photogenic as it is legendary.
Explore the sprawling ruins of Mary, Merv and other ancient kingdoms and contemplate the remnants of empires that once ruled these vast lands.
Witness the eternal flames of the Darvaza Crater, aka the 'Door to Hell' as you camp nearby – one of the strangest, most mesmerising geological oddities on earth.
Ashgabat rose from the devastation of an earthquake in 1948 and has enjoyed a surreal and futuristic makeover - witness its often bizarre, but certainly memorable architecture on a city tour.
For over 30 years we've been taking travelers around the globe. That's over 30 years of adventures, of visiting new places and old friends, of countless unforgettable moments. More than 30 years of changing the way people see the world, on small group tours with like-minded Intrepid people.
As a responsible business, we've always been committed to being there for our travelers and the communities we visit. So, you can trust that when you travel with us, we won't just be there for you
...