Dalmatian Elegance - Lower Deck Deluxe Cabin, Classic Group, 2023 Lower Deck Deluxe Cabin Classic Group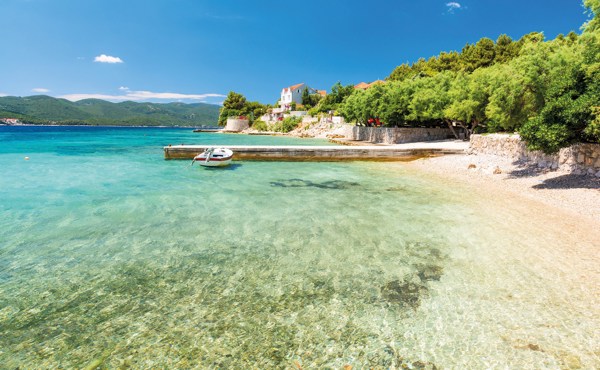 Dalmatian Elegance - Lower Deck Deluxe Cabin, Classic Group, 2023 Lower Deck Deluxe Cabin Classic Group
Discover the Dalmatian Coast and Islands on a luxury yacht-led by local experts in Dubrovnik, Hvar, Bol and beyond. This exclusive Adriatic cruise begins in the ancient Old Town of Split before embarking on a VIP curated tour of the Croatian isles. From the birthplace of Marco Polo on Korcula, this 9-day tour charts the island of Mljet's Big Lake National Park before the marble streets, terracotta rooftops and towering fortifications of ancient Dubrovnik-all packed within its world famous walls. Sail onwards past the vineyards of the Pelješac Peninsula before a pause at Kuna to feast on farm to table Croatian delicacies, sourced from the finest local produce. The cruise concludes with the lavender-infused apothecaries of Hvar and a once in a lifetime chance to swim at Brac's Golden Cape.
Choice HighlightsWell-being
: Our Well-Being Directors take a proactive approach to your welfare ensuring all well-being regulations are met (available on tours with 21 or more guests).
: Experience enhanced hygiene protocols to align with the latest guidance following COVID-19.All Travel Directors, Well-Being Directors and Drivers have completed training in enhanced well-being and hygiene protocols.
: We only work with establishments we are confident will consistently adhere to our high well-being standards, which include hotels, restaurants and sight-seeing venues.
: Hand sanitizer is freely available on board for you to use throughout the day.
Travel Director
: "One thing I really love about showing guests Eastern Europe is the rich history and culture of places that have previously been impossible to visit due to political situations."
: "I decided to become a Travel Director because I love the joy of discovery. When people see a place they've dreamed about, tasted something they've only read about, and hear the music and stories of a place they're exploring, we all share a joyful creation of lifelong memories."
Top Rated Highlights
Split: Explore above and below the Roman Emperor Diocletian's palace. A Local Expert guides you through labyrinthine streets to see St. Duje's, the Temple of Jupiter, the Golden Gate and the Cellars.
Veliko jezero: Walk through Mljet National Park with your cruise manager and take in the pristine views of the Big Lake. Sail by boat to the Benedictine Monastery of St. Mary rising out of the water.
Dubrovnik: Ride the cable car to the summit of Srd Mountain for scenic views over the famous fortifications and Elaphiti Islands.
Dubrovnik: Explore the buffed marble streets of the fascinating city during your guided walking tour.
Kuna Pelješka: Visit the church and monastery, and learn about local life when you visit a local farm.
Paklinski Islands: Take a dip in the pristine waters of this absolute paradise.
Hvar: Walk to the town's main square with your Local Expert, see the yacht-filled harbour and the Renaissance cathedral. Enjoy time at your leisure to explore this delightful island, famed for being the sunniest in the country and boasting an interior dotted with lofty mountain peaks and aromatic fields of lavender.
Bol: Delight in a swim at Zlatni Rat, also known as the Golden Cape, a shifting triangle of shingle protruding into the cobalt waters of the Adriatic.
Authentic Dining
Split: Enjoy a cocktail and Welcome Dinner with wine at your meet-and-greet party.
Dubrovnik: Cruise alongside the towering old city walls while a buffet dinner is served onboard.
Kuna Pelješka: Meet the locals and enjoy a typical Farm-to-Table village feast of Croatian delicacies.
Bol: At a local winery, relax with some appetisers and sample some of the revered wines of the island.
Brac: Toast to your voyage with a special Captain's Celebration Dinner, complete with live entertainment.
Dining Summary: 8 Breakfast (B), 1 Dinner (D), 3 Dinner with Wine (DW), and 5 Lunch with Wine (LW)
Insight Experiences
Korcula: Join Andrea, a passionate local, for a photography walk across the maze of streets and flagstone plazas. Spend time looking for the cultural and natural treasures of the city.
Additional Included Highlights
7 nights aboard your luxury cruise ship featuring air-conditioned cabins with private facilities.
An expert Cruise Manager will ensure a smooth and hassle-free voyage.
All port taxes are included. Insight hotel in Trogir includes all taxes and porterage charges.
Complimentary transfers are available on arrival from Split airport to the Insight Vacations hotel on start date and from Split sea port to Split airport on end date. They are also available when additional nights accommodation has been booked through Insight Vacations. Alternatively, please make your own way from/to the airport.

At Insight Vacations, we have been in the business of creating magical experiences for travelers for over 40 years. But for us, it's never been just a business. Travel in its truest sense - not just going to incredible places, but really connecting with them, in an authentic way - is both a joy and a personal passion, for every member of our team. Let us share that passion with you. We'll take you on an unforgettable journey. We'll immerse you in unique experiences, and we'll introduce you to am
...